The Active School Flag is a Department of Education and Skills initiative which is supported by Healthy Ireland and is part of the National Physical Activity Plan.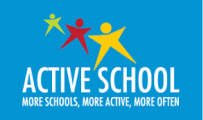 St. Mary's Convent Primary School is an Active School. In our school physical activity is valued, promoted and enjoyed by all the children. Along with the P.E. curriculum which is taught to all classes, the children partake in busy active breaks, brain breaks and movement breaks at various times.
Our Active School's week is always highly anticipated and enjoyed by all the children. Having our children active promotes increased academic success, stronger emotional mental health and well-being while equally developing long term healthy habits which will encourage our children to stay active as they grow up.